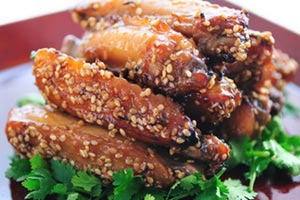 Ingredients:
6 chicken wings
1 sm. clove garlic
1 scallion
1/4 c. soy sauce
2 table spoon of honey
2 tea spoon of rice-wine vinegar
1/2 tea spoon of grated ginger
1/2 tea spoon of oriental sesame oil
Pinch of cayenne
1 tea spoon of sesame seeds
1 table spoon of chopped fresh coriander or parsley
Cooking Method:
Remove wing tips and cut wings in half at the joint.
Mince garlic and scallion.
Combine soy sauce, honey, vinegar, garlic, ginger, oil and cayenne in a microwave safe dish. Add wings and turn to coat. Marinate at least 30 minutes, turning twice.
Put larger wings at the edge of the dish. Cover with plastic and vent.
Microwave on high for 5 minutes. Rotate plate and cook 5 minutes longer.
Transfer wings to a serving plate.
Return marinade to oven and cook, partially covered on high for 2 minutes.
Pour marinade over wings and turn to coat.
Sprinkle with sesame seeds, scallion and coriander.